Located on Highway 72 (on the corner of Main St)'Monument Row' was started by the Bouse Chamber of Commerce in conjunction with the Bouse Community's VFW Post 2357 and American Legion Post 46 in 1996. Over the years additional monuments have been erected and now numbers 11 seperate 'Historic Markers'. 2021 will mark the 25th annual celebration.
It is only thanks to the support of the ECV Lost Dutchman Chapter 5917 that the memorial markers along 'Monument Row' were able to be placed. The Chamber of Commerce thanks them for their dedication and help. For a history of this group CLICK HERE
The community of Bouse in Arizona has welcomed this group on numerous occasions now ... in each instance they have built and dedicated plaques and memorials in remembrance of those who served at Camp Bouse.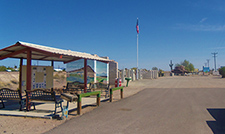 © All rights reserved, Bouse Chamber of Commerce, 2016 -2020
Website design and maintenance by Blue Moose Design Services, Bouse, AZ for Bouse Chamber of Commerce