Bouse, AZ can't officially claim it's famous for its military history, BUT that is ONLY because Bouse was the location of a 'Top Secret' military camp, so extremely top secret, it was not listed with the dozen other training camps and to this day, historian/authors often miss the area when writing about the camp. Even troop movement was extremely restricted -- once in Camp Bouse, there was no chance of transferring out and they were sworn to secrecy about the location.
'Sandy' is the M60 Patton Tank, with her 105 mm main gun, is now residing at one end of 'Monument Row' located on the corner of Highway 72 and Main Street as you travel through Bouse. 'Sandy' stands there to honor the tank battalions that made up those at Camp Bouse Memorial.
All of the 9,000-plus troops who spent time at Camp Bouse were sworn to secrecy about the project. Soldiers weren't allowed to be transferred out of the camp, their movements were restricted and any soldier caught leaking information was guaranteed imprisonment. All that's left of Camp Bouse today are several concrete building foundations and walkways, a large reservoir and stone markers left in the desert by units that were stationed there.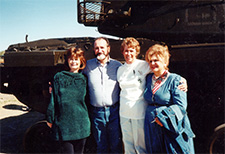 The Bouse Chamber of Commerce needs to acknowledge and thank
George & Sandra Nault (It's her name on 'Sandy'),
Joyce Barker (la Paz Supervisor), and
Margit Chiriaco Rusche (General Patton Museum, Chiriaco Summit)
© All rights reserved, Bouse Chamber of Commerce, 2016 -2020
Website design and maintenance by Blue Moose Design Services, Bouse, AZ for Bouse Chamber of Commerce