History of the Canal Defense Light (CDL)
During the time Camp Bouse was operational in the early 1940's thousands of troops from the 9th & 10th Tank Group occupied Camp Bouse.
They tested a top secret weapon system mounted on top a tank turret known as the 'Gizmo'. Troops were told it would "change the course of the war." The Canal Defense Light (CDL) project was started at the request of the British military. Following a large scale slaughter suffered by British Troops by machine gun fire in WWI, a British officer proposed mounting a strobing searchlight on a tank that would allow advancing troops an advantage and blind the enemy defenders.
The British considered American tanks better suited to handle the mounting of the `3 million candle power lights. The only successful deployment of the Gizmo came after the war, when British troops used them to quell riots in Calcutta in 1946. The last known surviving version of the British CDL turret mounted upon the M3 Grant Tank is located in India at an Amoured Corps Museum.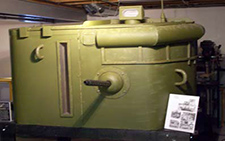 On display at the Bouse Museum is the model for the Canal Defense Light (CDL) Turret that was built by Marty Sliva. Marty's father served with the 738th Tank Battalion, Company B, at Camp Bouse.
As he was researching information on the story of the "Secret Weapon" called the Canal Defense Light, Marty took notes from John K. Brier, Commander of Company B, and formulated his plans and drawings.
"Marty sought to record, preserve and pass on the history made by his father and those 5000 troops at Camp Bouse and those at other training camps and battles in WWII."
Marty spent seven months building this model of the CDL turret that was retrofitted upon a Grant Leaflet Tank back in 1943. The model is built to spec to show that it works. Marty donated the model to the Bouse Museum and it was delivered on February 9, 2012, just in time for the annual Camp Bouse Days Ceremony.
More Information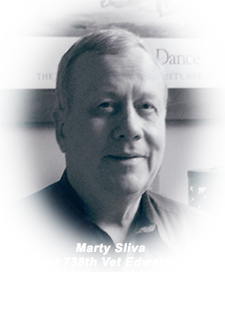 The real secret was not so much the weapon, but the strategy involved.
Some who served at Camp Bouse believe they were left sterile from the powerful carbon arc lamps of Gizmo.

Gold miners working active claims in the mountains around Camp Bouse were encouraged to evacuate -- usually a little over-their-heads target practice encouraged their departure.

Even all the dogs in Bouse, 25 miles away, were rounded up and relocated.
© All rights reserved, Bouse Chamber of Commerce, 2016 -2020
Website design and maintenance by Blue Moose Design Services, Bouse, AZ for Bouse Chamber of Commerce