Initially starting off as 'One-time' event idea (by Chamber President David Buill) to create an event that the community could all claim to be a part of. (The event has involvement in some way by almost every community club and group in Bouse)
The 2nd Annual Christmas Block Party & Christmas Event will be held on DECEMBER 9, 2017
The Christmas Event has several parts:
* A Community Block Party,

* A lighted parade of ATV/UTVs, and vehicles from both community and local business,

* A Community BBQ,

* The Official 'Lighting of Christmas Lights' placed around the Museum, Mining shack, Memorial Park and Flag Pole (adding to the town wide christmas lighting effort by community members and local businesses)

* Community 'Carols under the Stars'.
The idea was to get the community together to celebrate the christmas season as a community.
The event was so successful that the Community and other Chamber members wanted to make it an annual event.
FOR MORE INFORMATION ... CLICK HERE

Now in its 22nd year as an annual event, The Chamber of Commerce and the Bouse Museum hosts this event the 2nd weekend of February each year.
During the time Camp Bouse was operational in the early 1940's during WWII, thousands of troops from the 9th & 10th Tank Groups occupied Camp Bouse. At the time, Camp Bouse was so extremely top secret that it vbecame the most secretive, heavily guarded military units in the United States Army.
Troop movement was extremely restricted -- once in Camp Bouse, there was no chance of transferring out. Troops were told they were testing a top secret weapon system mounted on top a tank turret that came to be nicknamed 'Gizmo'. and that it would "change the course of the war."
Over the weekend in February there are two actual events:
Saturday - A Dedication Memorial Service at the Memorial Park to honor and remember those that served our Nation through service at the 'Top Secret' Camp Bouse campsite in the early 1940's.

Sunday - The Chamber of Commerce hosts a guided tour of the Camp Bouse site located just 25 miles from the town in the Butler Valley.
FOR MORE INFORMATION ... CLICK HERE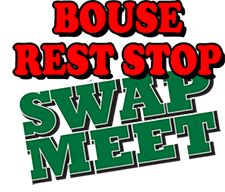 Held the 1st Friday of the month 
@ the Rest Stop on Hwy 72
for information call 
(928) 852-2509
The Swap Meets have now CLOSED for the Summer.

We plan to restart them on November 2, 2018 AND welcome any new VENDORS.
© All rights reserved, Bouse Chamber of Commerce, 2016 -2020
Website design and maintenance by Blue Moose Design Services, Bouse, AZ for Bouse Chamber of Commerce