George L. Wendt
Headquarters Company
— 526 Armored Infantry Battalion —
Inscription
United States Army
World War II
1924 – 2002

Whose dedication to the memory of his brothers in
arms, who fell in the Battle of the Ardennes, made this
historical park possible.
More About This Marker
This marker honors the man whose drive and dedication to this project led to the placing of these commemorative plaques. The citizens of Bouse are very pleased to have a park commemorating and honoring the Veterans of WWII who trained in this area. Thanks to the Veterans of WWII whose gallant efforts restored freedom to Europe and kept America's freedom intact, demonstrating to the World once again that evil can be defeated.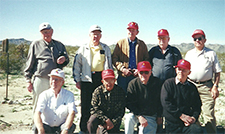 9th Tank Battalion 2001 tour (Top l-R) Damon, Chambers, Kirk, Morrison, Doug Rider (554th)
(Bottom L-R) Love, Ortega, George Wendt (526th) and Glenn Damron (526th)
© All rights reserved, Bouse Chamber of Commerce, 2016 -2020
Website design and maintenance by Blue Moose Design Services, Bouse, AZ for Bouse Chamber of Commerce